Could this be true?? a Suzuki APV pickup??
While going thru around my usual day I spotted something in SM Bacolod, one of Bacolod's popular malls a worthwhile new vehicle that if for me given much needed attention by Suzuki Philippines it will become a big AUV hit here in Bacolod as a small route jeepney platform suitable for small routes for example, airport subdivision, city heights, tangub, and magsungay here is some specs you want to see more about this model
The Suzuki APV pickup combines the features of Suzuki's ever-popular multi platform van together with fleet ergonomics and carrying capacity, and myriad Suzuki performance that it is known for.
-Engine and Transmission: Suzuki G16B1600cc, Manual
- Steering: rack with Power Steering assist,
Interior features:
-3-spoke urethane steering wheel,
-3-position
-front cabin light,
-sun visors with driver's-side ticket holder,
-Air Conditioner (optional),
-Antenna,
-AM/FM CD Player..
Halogen headlamps
Safety features:
Side-impact beams,
High stop lamp,
tires: 185R14C tires
we hope suzuki philippines offers more body options for the apv cab which is possible with some local production plants such as almazora and centro builders, which will make this model available similar in L300 body configurations such as FB cab, PET, Aluminum van and so on..
end life service options:
the APV pickup sports a 1.6L G16B gasoline engine, and is installed underneath the driver and passenger seat similar to vans and some cab configured vehicles, to my opinion a diesel upgrade is possible due to the situation of the engine and Suzuki's very unique universal design body design after a few service years or so, or if you find the G16 engine very impossible to maintain in fleeting activities, you can opt to install the following engines:
A toyota 2C
or an Isuzu 4FB1 and other 4F series engines

Possible jeepeny Future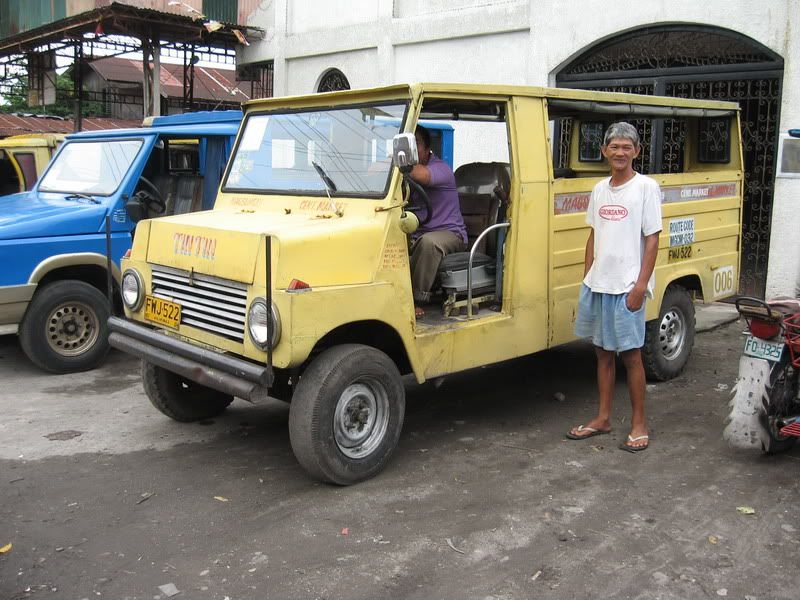 if given a better future; such as financial assistance, and driver and car loan incentive, the Suzuki apv pickup can be made into a versatile passenger carrier similar to the ford fierras like the one above operating in the magsungay-central market route.
most likely this kind of APV can be a good replacement to some of bacolod's aging 1st generation ford fierras and 1st generation toyota tamaraws, APV's sleek new design, and bold looks and comfortable driver amenities coupled with a good suspension characteristics and if possible good people attention and from the car loan sector, it won't be long when we see a new look and a bright future on small passenger jeeps around bacolod city.